Enjoy your independence and freedom on our self-drive tour Azerbaijan in a fast 4×4 SUV along the old caravan routes through the Caucasus – with the support of Kaukasus-Reisen!
You can book this tour at any desired date.
Recommended travel time: April – October
Our Self-drive tour Azerbaijan will provide you with the perfect holiday package of your pre-planned route, travel organization, a 4×4 rental car, booking of hotels and guesthouses as well as local guides where you need them. Do you want to see Gobustan, Shahdag, Khinaliq, Shemakhi, Sheki and Ganja – we provide you with the perfect travel plan, bookings and support.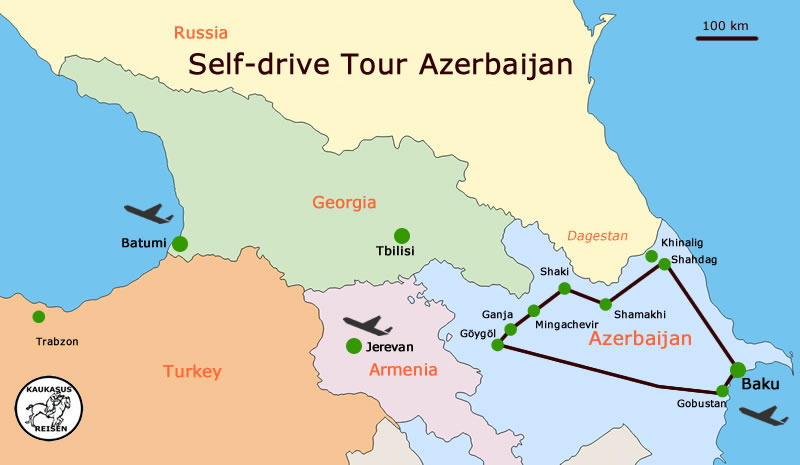 Azerbaijan – discover an unforgettable travel country on a self-drive trip.
Tea, carpets, camels, oil, deserts and rushing mountain streams, hot dances, fiery wines and the endearing charm of the people of the "Land of Fire" – all this is Azerbaijan and much more. On the well-developed road network with relatively little traffic, you drive along the old routes of the Silk Road and experience a dazzling country, as good as unknown in Central Europe. You will receive a Hyundai IX35, Kia Sportage or Nissan Qashgai SUV rental car with insurance and stay in beautiful 3, 4 and 5* hotels.
Travel time 12 days.
The travel price is EUR 1650.00 per person for two people, but is variable depending on your specific travel package.
We are also happy to adapt the travel program individually to the duration of your holiday.
To/from Baku, we can send you a suitable flight offer on request.
You can book a similar Self-drive tour Georgia here
Overview
This self-drive tour begins and ends in the capital, Baku. After a first day in Baku, your  journey begins at the Stone Age rock carvings in the semi-desert Gobustan and then heads north into the Greater Caucasus to Quba, Khinaliq and Shahdag. Then you continue northwest along the foothills of the Greater Caucasus to the ancient caravan town of Sheki. From there you will travel to Ganja and Goygol Lake and then to a winery. At the end of the trip you can relax in a resort on the Caspian Sea.
Highlights of this trip
Baku, the metropolis on the Caspian Sea
Gobustan and the Drawings of the Stone Age
Khinaliq, the highest village in Azerbaijan
Sheki on the historic Silk Road
Ganja, the second largest city of Azerbaijan
In a resort on the Caspian Sea